There will be 12 brand new events in this Winter Games.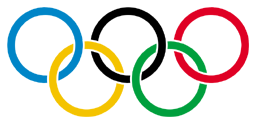 Sochi 2014 will introduce a dozen new Olympic events this year, spread among 6 different disciplines: Biathlon, Luge, Figure Skating, Freestyle Skiing, Ski Jumping, and Snowboard.
Biathlon has one new event, the Biathlon Mixed Relay (a.k.a., "2x6km Women + 2×7.5 Men Mixed Relay"). As the name suggests, this event consists of both men and women competing on one biathlon relay team. The opening two 6km [3.73 mile] legs are skied by women, with two bouts of shooting (2K-prone-2K-standing-2K), then the two 7.5km [4.66 mile] legs are skied by men, in the same fashion (2.5K-prone-2.5K-standing-2.5K). The first skiers all start simultaneously, so the first team to complete all four legs and cross the finish line (barring penalties) is the winner.
Luge has one new event, the Luge Mixed Team Relay, which consists of one Singles woman run, one Singles man run, and one Doubles team run, consecutively. At the end of each Singles run, the slider must touch a pad in the exchange zone, which will allow the next run to start, and a slider from the Doubles team must touch the pad to stop the clock and determine total time, measured from the start of the first run. The lowest elapsed time wins. Since the relay is the last Luge event, and there is only one attempt per team (unlike other Luge events), this should be quite exciting.
Figure Skating has one new event, Figure Skating Mixed Team, which consists of a Short Program and Free Program (each) for one Individual man skater, one Individual woman skater, and one Mixed Pairs team, as well as a Short Dance and Free Dance from one Ice Dancing team. Each program/dance is a judged competition, and the team with the highest total score for all skates is the winner. There does not appear to be any provision for dropping scores, so one bad performance could be disastrous. This is the very first Skating event this year, with the Team Men Short Program and Team Pairs Short Program taking place the night before the Opening Ceremony.
The bulk (9) of the new events are in 3 different Skiing disciplines: Freestyle Skiing, Ski Jumping, and Snowboard.
Freestyle Skiing has four new Freestyle events, Halfpipe Men, Slopestyle Men, Halfpipe Women, and Slopestyle Women. The Freestyle Halfpipe events are similar to Snowboard Halfpipe events, but performed on skis, which makes it obvious when a skier is traveling backwards. The Freestyle Slopestyle events consist of runs down a slope populated with obstacles such as rails, jibs, and kickers. Halfpipe and Slopestyle events are judged based on tricks performed in each of two passes in a round; the first round qualifies a fixed number of skiers for the final (medals) round, where the highest qualifier skis last.
Ski Jumping has one new event: Ski Jumping K90 Individual (70m) Women (a.k.a., "Ladies' Normal Hill Individual"). This event is simply ski jumping on the normal (smaller) hill for women, but it is the very first time women have ski jumped in the Olympic Games. It is the equivalent event to Ski Jumping K90 Individual (70m) Men, which has been contested in every Winter Games (since 1924).
Snowboard has four new Snowboard events: Parallel Slalom Men, Slopestyle Men, Parallel Slalom Women, and Slopestyle Women. Parallel Slalom events consist of side-by-side races between two skiers on a slalom course, and the faster of the two advances to the next round, while the slower is eliminated. Snowboard Slopestyle events (like Freestyle Slopestyle) consist of a pair of runs per round down a slope populated with obstacles, with the highest total judged score being best; there are qualification and semifinal rounds to determine the final participants and skiing order for the final (medals) round.
For balance, here are three events that were considered but will not be contested at Sochi 2014: Ski Mountaineering, Ski Orienteering, and Winter Triathlon.